JOIN THE FASTEST GROWING "EDGE LEADERS" BUSINESS SEMINAR
Share us with #edgeevents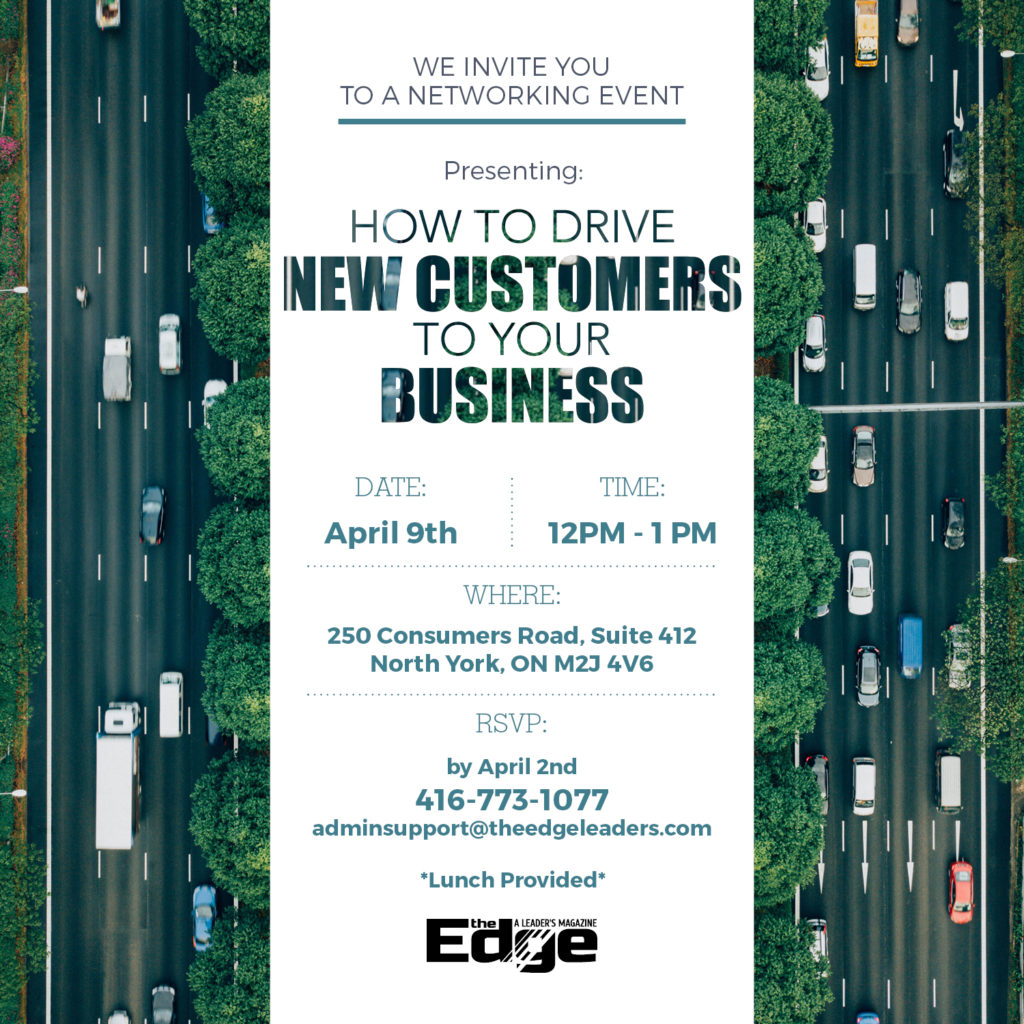 Admission: FREE
Free parking will be provided for our guests.
Refreshments will be served
Sandwiches, assorted finger foods, and refreshments will be served.
*Please let us know if you have food allergies in advance so we may accommodate you.
For any inquires please call us at (416)773-1077 or send an email to support@theedgeleaders.com
DRIVE CUSTOMERS TO YOUR BUSINESS
A fact-filled discussion about the various strategies available to grow your business awareness fast!
Hosted by The Edge: A Leader's Magazine, partnering with Sandals and our special guest speaker and President Mr. Curtis G. Ellis.
Our team has designed this event to not only get you thinking about your company and its growth, but to also give you some handy tips to ensure stability, clarity and the results that you want.
Reserve your seat today. Be a part of The Edge family.  
Who should attend?
Perfect for entrepreneurs, speakers, coaches, consultants, professionals and leaders.
What to expect?Registration – Each attendee receives a special "The Edge" gift.
Networking – 30 minutes of networking before event starts
Session Outcomes:
You will leave with:
Easy to implement strategies to engage your prospects and customers

Smart communication tactics that elevate your expertise and brand
A plan to create consistency and alignment between revenue generating and profile building activities
Learn how to organize, monetize and systemize your knowledge to the marketplace
The process to ensure an optimal growth mindset that breeds confidence and results every time
Toronto
Thursday
april 9th, 2019
12:00 pM to 1:00 PM
The Edge leaders
250 Consumers road, North York, ON M2j 4v6
Limited Space Reserve A Seat Now
GET THE LEADING STRATEGIES FOR PERSONAL, PROFESSIONAL AND BUSINESS SUCCESS